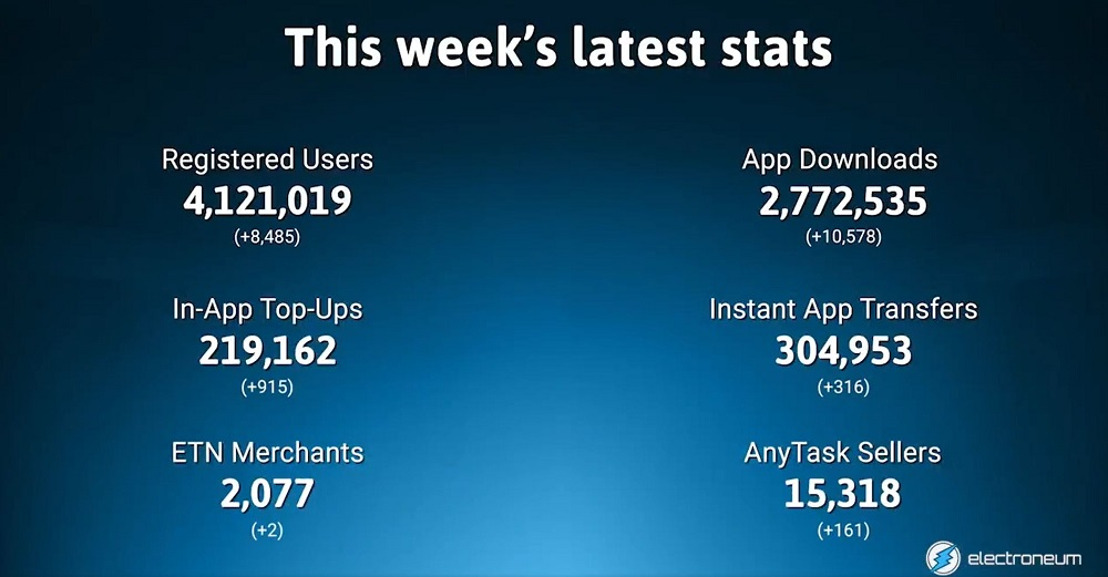 Electroneum reports over 1,760 app downloads and 1,200 new registered accounts a day
Electroneum CEO Richard Ells shares a 2021 outlook, including some news on what to expect in the coming months.
Electroneum has experienced an increase in weekly sign-ups and app downloads, a clear indication that the UK-based startup continues to draw the attention of more crypto enthusiasts. AnyTask also shows notable growth.
As of this last Wednesday, Electroneum has 4.12 million registered users after a week that saw an average of just over 1,200 new sign-ups per day, reported Ellen MacPherson, the award-winning project's Data Analyst Manager.
She said she recorded over 10,575 app downloads in one week ending on 13 January. "That comes to an average of 1,763 app downloads per day. The total number of app downloads is now 2,772,535," MacPherson added.
COINTELEGRAPH: Token-based electricity top-up app expands in Africa
AnyTask.com is also showing increased growth. The website now has over 613,000 registered users. Over half of them have signed on as sellers, although they have yet to upload a task. For now, there are nearly 16,000 active sellers with very close to 30,000 tasks listed across a variety of freelance offerings.
More from our Data Analyst
Ellen MacPherson said she is working closely with Electroneum Chief Operating Officer Nick Cook and Product Assistant Becky Corbel to expand the gathering of key statistics and information.
"The objective of gathering the data is to get a better understanding of users, including how many we have, who they are, the platforms they are using, and if and where they are using ETN," she explained.
The increased data gathering will also help understand our community, their needs, and demands, and learn from them what areas Electroneum needs to improve.
An overview of what to expect in 2021
"Our support team has been experiencing high demand in recent weeks, which has been amplified by the success of our AnyTask TV advertising campaign. As a result of this increased demand, our communications have not been as frequent as we would like," said Electroneum CEO Richard Ells.
INVESTING.COM: Electroneum electricity top-ups now live in nine African countries
"We understand that this may have caused you some concern, but please rest assured that we are working on resolving support tickets as fast as we can," he added.
He recommended that if you have been affected, you should reply quickly to our support team when contacted to resolve the issue.
Unlocking new opportunities
"Our TV adverts will undoubtedly unlock further opportunities, as will our ongoing success with AnyTask," said Richard Ells. "In the coming weeks, we are also preparing for major developments in the connection between Electroneum and AnyTask to educate better and onboard new users."
Mr. Ells explained that this is particularly important because AnyTask is already attracting thousands of non-crypto users. We are genuinely witnessing real-world adoption here," he highlighted. "And as new users come on board, they'll be looking for places to spend."
Expanding brand awareness
The UK-based startup's team will continue to expand awareness of the Electroneum project amongst the crypto space, including regular coverage through influencers, keynote speeches at key crypto events, and extensive PR coverage.
"We are also planning a new ambassadorial program that'll help foster daily conversations around the project and help attract new members from the wider crypto space," said Richard.
READ: What an amazing year 2020 has been for Electroneum, 2021 to be even better
"We are so incredibly proud of our wonderful community, and we thank you for your continued support. Without your thousands of shares, comments, and likes, we truly wouldn't be where we are today - so thank you!" said Mr. Ells.
"This is truly an exciting time to be part of such a nascent industry. We are still at the very start, and we have many years of exciting times ahead," he concluded.