Electroneum gamers can now use ETN to rent servers on top provider Host Havoc
For a limited time, Host Havoc is offering a 30% discount for life to all those who pay with ETN by 8 November using the promo code ELECTRONEUM30
5 November 2020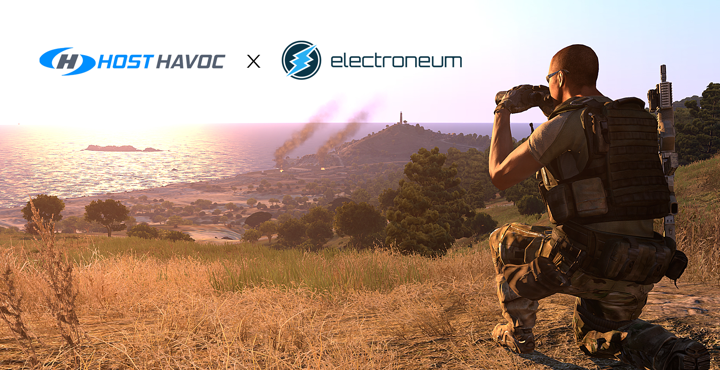 Host Havoc and Electroneum have signed an agreement to allow more than 4.1 million ETN registered users to rent gaming servers for 30 games and in 11 different locations worldwide. And for a limited time, Electroneum users get a 30% lifetime discount when making a payment with ETN by 8 November.
"Electroneum is experiencing true adoption, and we are very thrilled to see ETN as a payment method in the video gaming industry, such as with 

Splinterlands

 and now 

Host Havoc

," said the award-winning startup's CEO Richard Ells. "We should see more of these integrations shortly.
CRYPTO DAILY: Splinterlands' gamified DeFi model and the listing of Electroneum
Host Havoc CEO and Founder Clay Berndt said his company is thrilled to welcome Electroneum as an additional form of payment and offer their users the opportunity to use their ETN to rent some of the best servers in the industry.
"We look forward to working with Electroneum, a crypto project that has millions of users and one whose goal for financial inclusion aimed at the unbanked and developing countries we strongly support," Berndt said.
"We believe we can both benefit from our partnership and are very happy to offer their community a massive discount that has no precedence in the gaming industry," he added.
Slots on Host Havoc, ranked among the top five gaming server providers worldwide, go for as low as $0.30, and monthly rentals start from $5.
Run by experts and passionate gamers
According to their website, Host Havoc was founded in 2013 in Ottawa, Canada, by highly experienced tech experts who are also passionate gamers. They have a highly-rated 24/7 support service in place. 
"We love to play the games that we host and have real experience operating these servers for mere fun," they add. "That translates to levels of understanding and passion that we guarantee you won't find anywhere else."
Host Havoc is present in 11 locations worldwide, including six in the United States and others in Canada, United Kingdom, France, Germany, and Australia.
Their game-server hosting lineup includes the most popular hosting platforms. All services feature custom-tailored tools and features that they actively maintain for updates to both the game and third-party content.
Servers for popular games
They provide servers for 30 games, including Minecraft, Ark: Survival Evolved, Arma3, Counter-Strike: Go, DayZ and Hytale.
"We've very carefully established a widespread global network of 11 data centers," they stated. "Using the most reliable facilities and networks with true redundancy, we're able to ensure 99.9% uptime and consistent server performance."
All their game servers are powered by NVMe SSDs, which are over seven times faster than SSDs, which are up to 20 times faster than HDDs. They also provide servers equipped with ultra-fast E-Series XEON processors, featuring speeds of up to 4.5 GHz. 
Their servers also include a three-day moneyback guarantee, instant server setup, complete control of your server, daily backups, Enterprise Server Grade hardware, easy configuration, free DDoS protection, and the ability to switch games at any time. They also include full FTP access and advanced settings.
READ: Electroneum, first crypto to partner with LockTrip, the blockchain travel agency
Host Havoc guarantees 99.9 uptime and technical support 24/7 all year round with an average response time of 10 minutes.
They also offer an affiliate program that allows participants to earn a 12% recurring commission. Anyone with a Host Havoc account can register as an affiliate.
A Host Havoc 2020 Review
Best Game Hosting posted a 2020 review ranking of gaming servers providers. Host Havoc ranks second with a 4.6-star rating. 
"Looking at the different features, we found their control panel to be very handy with automatic updates, one-click mods and plugins installed, a gorgeous mod GUI and auto-updating mods," Best Game Hosting said. 
"Customer support is a stand out feature of Host Havoc. Customers say their customer service is brilliant, and in our experience, it is beyond great. They have multiple features such as a ticket system, live chat, and email," they added. "Overall, Host Havoc has a great service, which we highly recommend."