Individuals donate ten times more than corporations, almost four times more than foundations
Electroneum is the only cryptocurrency in the industry that has partnered with NGOs as trusted transaction validators
22 May 2020

It may come as a surprise to many that historically, over 80% of global donations to charities and non-governmental organisations (NGOs) come from individuals, and the remaining 20% comes from corporations and foundations.
In other words, the donating public, not big foundations or corporations, is responsible for the vast majority of donations to charitable organizations. For example, in 2017, the global philanthropic contribution totalled an estimated US$410 billion, a 5.2% increase from 2016. Individuals were responsible for over US$300 billion of those donations. Corporations donated only US$35.7 billion, while foundations contributed US$20.8 billion, according to statistics provided by Charity Navigator.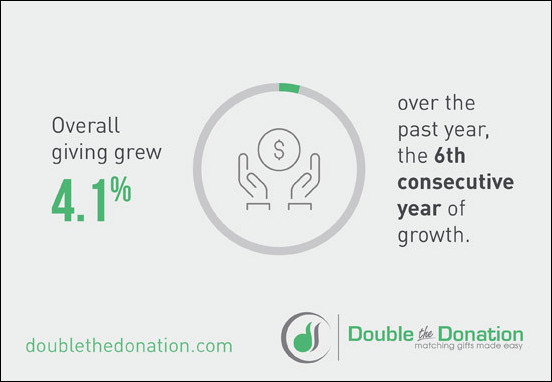 A 2020 report by Double The Donation reveals that over the past year, overall giving grew 4.1%, the sixth consecutive year of growth. Online giving grew by 12.1% over the past year. It also shows that 45% of worldwide donors contribute to monthly giving programmes. An estimated 41% of global donors give in response to natural disasters, while international affairs missions experienced a 19.2% increase in overall donations over the past 12 months.
About 31% of global donors give to charitable causes outside of their countries of residence. Sixty-seven percent of worldwide donors choose to volunteer locally in their communities, and 56% regularly attend fundraisers.
"Female donors are more likely to donate because of social media marketing, while male donors are more likely to give because of email messages," the report adds. "Generational differences between donors can have considerable impact, as evidenced by the following findings."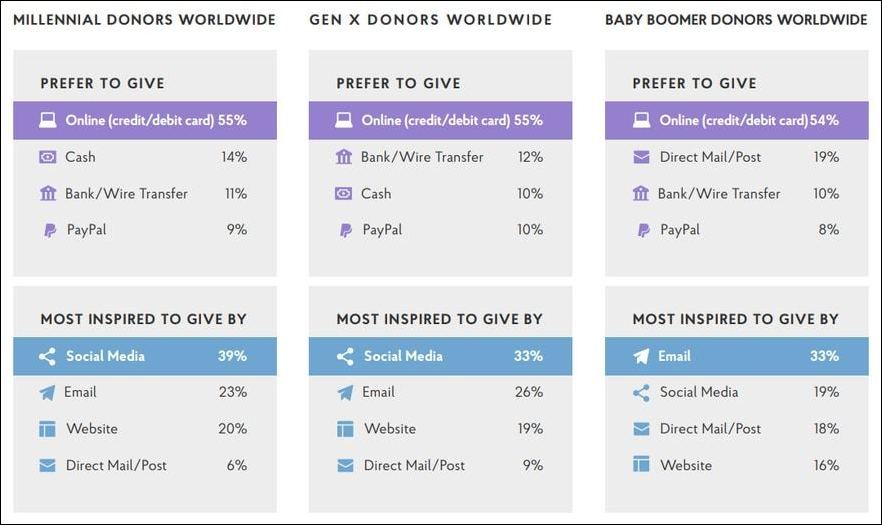 Rise of online and mobile donations
Over the past 12 months, overall online donations grew by 23%, up from 15% the year before. However, online monthly contributions grew by 40% as recurring donation alternatives become increasingly popular. Online donations to environmental and human rights causes experienced the most considerable growth as they increased by 34% and 37%, respectively.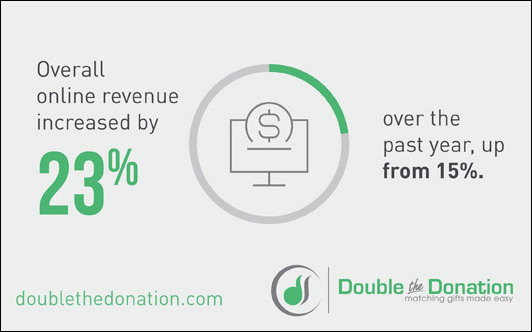 The number of online transactions completed through mobile devices increased by 50%, while desktop computers' contributions decreased by 10%, the report says. About 50% of website traffic on non-profits were from mobile and tablet users, while page visits from desktop computers declined by 9% from the previous 12 months.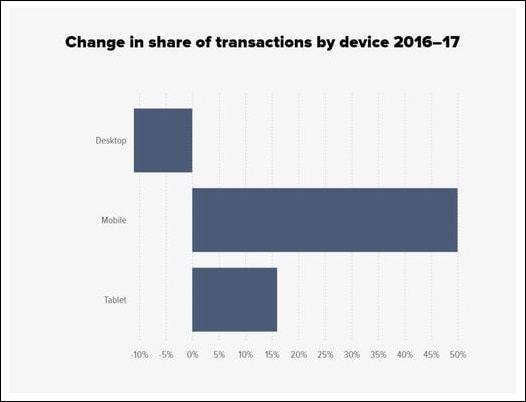 History of cryptocurrency donations
There are very few reports on when the first cryptocurrency donation took place, however, Save the Children reports they have accepted Bitcoin donations since 2013.
"We were the first non-profit beneficiary of Bitcoin Black Friday via the BitGive Foundation in response to Typhoon Haiyan that struck Southeast Asia and devastated the Philippines and one of the first global non-profits to accept cryptocurrency," the NGO states. Bitcoin Black Friday was launched in November 2012. It appears to be the first time cryptocurrency donations have taken place.
In October 2019, the United Nations Children's Emergency Fund (UNICEF) announced it would start using cryptocurrencies to fund open source technology benefiting children and young people worldwide. The first crypto donation came from the Ethereum Foundation.
READ: One of the world's most successful former UNICEF directors joins Electroneum
UNICEF Executive Director Henrietta Fore said at the time that, "If digital economies and currencies have the potential to shape the lives of coming generations, it is important that we explore the opportunities they offer. That's why the creation of our Cryptocurrency Fund is a significant and welcome step forward in humanitarian and development work."
Where do donations go?
Giving to Education charities was up 6.2% to $58.9 billion (14% of all donations).
Donations to Human Services charities were up 5.1% to $50.06 billion (12% of all donations).
Foundations saw an increase of 6% to $45.89 billion (11% of all donations).
Health charities experienced an increase of 15.5% to $38.27 billion (9% of all donations).
Public-Society Benefit charities saw an increase of 7.8% to $29.59 billion (7% of all donations).
Giving to International charities decreased by 4.4% to $22.97 billion (6% of all donations).
Arts, Culture and Humanities saw an increase of 8.7% to $19.51 billion (5% of all donations).
Charities that focus on the Environment / Animals saw an increase of 7.2% to $11.83 billion (3% of all donations).
Historically, Religious groups have received the largest share of charitable donations. This remained true in 2016. With the 2.9% increase in donations this year, 31% of all donations, or $127.37 billion, went to Religious organizations.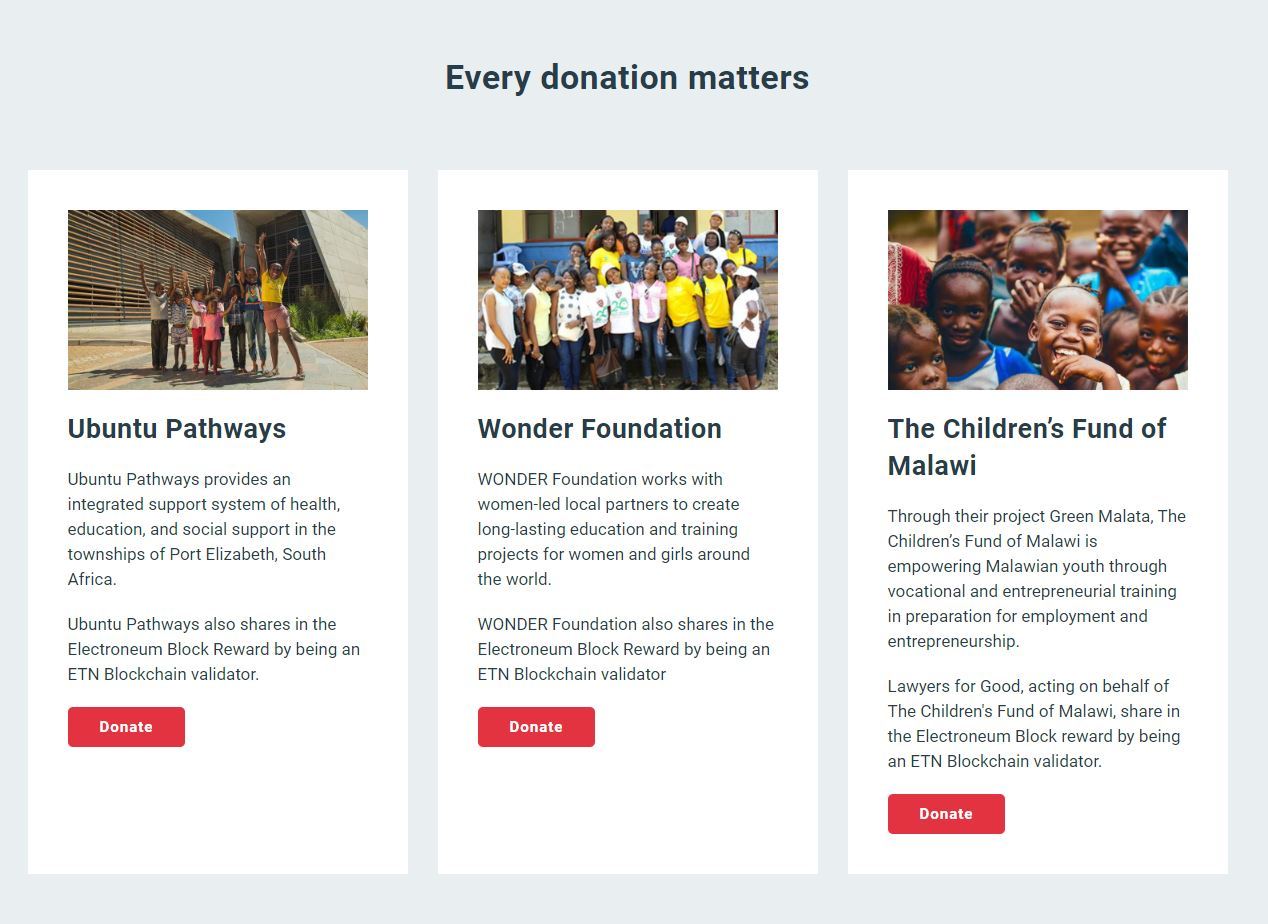 Electroneum and NGOs
Since inception, Electroneum made public its mission to empower the unbanked and those marginalised from the global digital economy by building an ETN crypto ecosystem via a revolutionary mobile instant payment system that does not require users to have a bank account.
In July 2019, the award-winning cryptocurrency startup based in the UK upgraded its network implementing a game-changing Moderated Blockchain, powered by its unique Proof of Responsibility protocol. That enabled Electroneum to select internationally-recognised NGOs as their trusted miners or transaction validators.
"For the first time ever, a cryptocurrency is working directly with NGOs. They mine ETN, and the block rewards they receive go to the long-term, on-the-ground assistance they deliver so efficiently," said CEO and Founder Richard Ells. "Helping children, women and their families break the cycle of poverty through education and employment."
Electroneum has taken yet another step in their goal to help reputable charities further their cause by launching the ETN Everywhere website and activating an in-app button making it easy for 2.4 million Electroneum app users to donate to charity.
"To further strengthen our relationship with our NGOs and charities, we have launched ETN Donate to promote their cause among one of the largest cryptocurrency communities in the industry, Electroneum," said Tanya Hardie, Manager of Corporate Relations.
Ms. Hardie said the NGOs Electroneum is currently working with say they are excited to be part of this global initiative. "With the Covid-19 pandemic, there is no better time for us to help support our charities' fundraising efforts."
As Electroneum ends a very successful 30-month period dubbed Phase One, which has seen ETN enter the top 70 cryptocurrencies once again, Phase Two promises to be a period in which the blockchain startup disrupts an already disrupted industry with more exciting new developments.