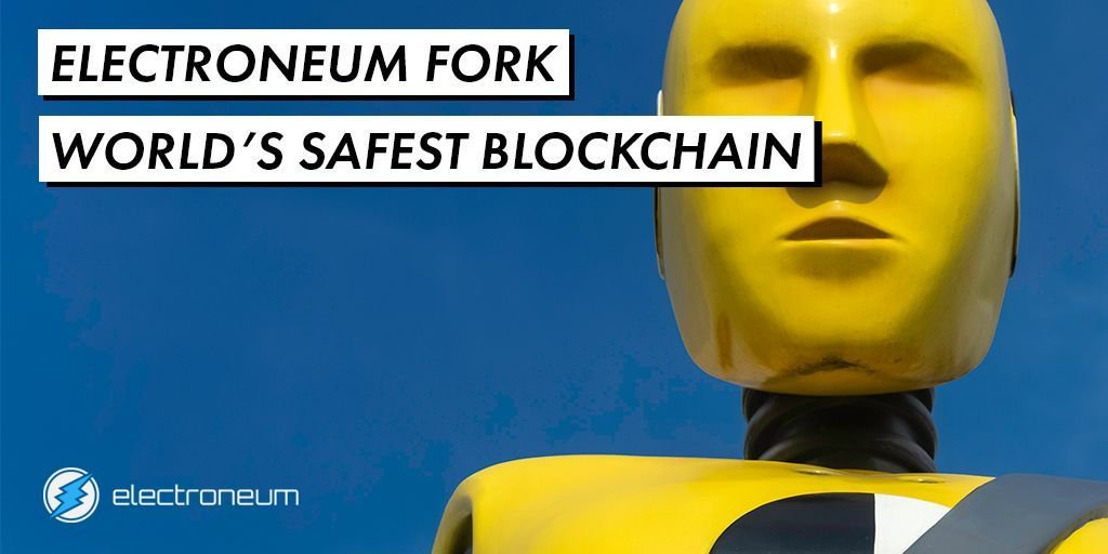 Electroneum creates positively disruptive blockchain that shields ETN from 51% attacks
"It makes our cryptocurrency virtually insusceptible to 51% attacks", says Electroneum CEO and Founder Richard Ells.
As many already know, Electroneum underwent a game-changing software update to implement their new Moderated Blockchain powered by their unique Proof of Responsibility protocol. The fork has thrust ETN to a new era that has created momentum within the industry, leading the way to the transformation of the world of crypto as we know it today.
The fork makes ETN the greenest cryptocurrency in the space, reduces block rewards by a massive 75% and helps to increase transactions speeds. The Proof of Responsibility (PoR) protocol brings greater performance to ETN and enables Electroneum to handpick miners that have a proven reputation of honesty and transparency, whilst being aligned with their vision to help people in developed countries to attain the skills and the training they need to improve their lives.
But one of the most exciting new features the Moderated Blockchain brings to ETN's 3.1 million users (they are increasing daily by the tens of thousands) and exchanges, is security.
"It makes our cryptocurrency virtually insusceptible to 51% attacks", says Electroneum CEO and Founder Richard Ells. "No longer can hackers or bad actors acquire hash rate to overtake our network as it is no longer available, unlike many other cryptocurrencies that are at risk of a double-spend as verified by Crypto51." 17
After the update, Crypto51 removed Electroneum from that list of at-risk cryptocurrencies, which means, ETN is no longer vulnerable to a 51 percent attack paving the way for it to be listed by many exchanges as well as unlocking opportunities with major corporations.
As Coindesk says in an article published 4 earlier this year, cryptocurrencies became more susceptible to 51% attacks or double-spends, when hashing power became more liquid or in other words, available to rent, which is no longer the case of Electroneum.
"The total percentage of hashing power for rent will increase because buyers and sellers both benefit from the ability to rent and lend respectively," the media outlet says. Thus, "Rent-a-miner attacks are already possible."
Crypto51 calculates how much it could cost to rent sufficient hashing power to stage a double-spend attack on a cryptocurrency. How? When block validators find a new block, they are meant to notify this to all other miners so they can verify it and it to the blockchain, but a bad actor can create their blockchain in stealth.
So, a 51 percent attack is, by definition, the ability of a hacker to control the more than half of a blockchain network's hash rate to revise or modify transaction history and prevent new transactions from being confirmed.
But because Electroneum's new Moderated Blockchain, powered by the Proof of Responsibility protocol, enables them to select who gets mining power and how much, there is no way a bad actor can garner the sufficient hashing power to launch an attack, making ETN's network essentially impossible to hack, unless validator keys' security were to be breached.
However, Electroneum's Head of Blockchain, Chris Harrison, says that is unlikely to happen because "we have created a clever and absolutely unique way to shield the validator's private keys from an attack or double-spend in the event hackers were to gain access to the miners' servers."
Harrison adds:
"Electroneum will have minimal interference, and that while remaining decentralised, it will have the ability to only select those who can mine and to guarantee the security of the ETN network.
This level of safety on the blockchain makes Electroneum more secure than all other decentralised cryptocurrencies by moderating the network and enabling early detection of hack attempts to prevent an attack from escalating."
Also, by hand-selecting a limited number of trusted miners, Electroneum are able to authenticate each miner using unique authentication keys, which can be switched off at any time, thus alleviating the risk of a 51% attack.
"In the unlikely case both a miner's equipment and authentication code are hacked, Electroneum's system will notify them of a potential risk, enabling them to shut down the miner almost instantaneously", Harrison concludes.
Electroneum has set a new standard in responsible mining. It is the greenest cryptocurrency as it has reduced hashing power required to validate blocks by millions of times to under a kilo hash. It has increased transactions speeds and scalability. It has reduced block rewards by 75 percent and maintain low transaction fees. It has new ETN miners that will help improve the lives of many in developing countries. And last but not least, it is today one of the most secure cryptocurrencies in the industry.