Cointelligence: Electroneum is an example of transparency in a crypto space that is mostly secretive
Electroneum is one of the few crypto projects that are truly developing products and services, and now one of the only ones with verified statistics and numbers
29 May 2020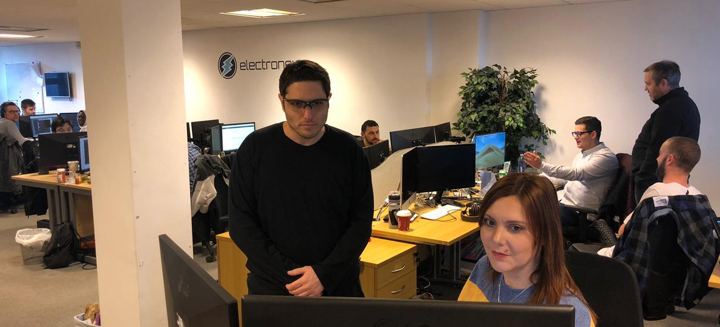 Cointelligence CEO On Yavin said that for the first time in his company's 2-year history he and his team of "scam fighters" have been commissioned an in-depth technical scrutiny and examination into a cryptocurrency startup that is for publication.
Thus, Electroneum is today one of the most transparent crypto project after allowing Mr. Yavin unfettered access to its main offices in Maidstone, Kent.
The Cointelligence 16-page report verifies, among other things, Electroneum's numbers and stats in March. Back then, they confirmed over 2.25 million iOs and Android Electroneum app downloads. Today, that number stands at over 2.5 million.
Also in March, Mr. Yavin confirmed over 89,000 mobile top-ups with ETN had taken place. Today, that number is nearly 150,000. And they also verified that almost 102,000 blockchain transactions take place each month, and that Electroneum users had completed over 290,000 app-to-app transfers.
The report highlights that "the amount of app installs is an impressive feat for any start-up company, especially in the blockchain industry. We can also see that users are taking advantage of the app and transferring funds between each other."
In its analysis, Cointelligence notes that the country that boasts the highest consumption rate of Electroneum services is Brazil. It also notes that the airtime and data top-up feature "is receiving widespread usage, providing a solution to a problem many people have."
"After taking a close look at Electroneum, its metrics, data and various other facts, we believe it is one of the companies with a real chance to succeed among the crypto companies existing in the industry," the report highlights.
The Cointelligence researchers found that Electroneum's goals are to:
Establish, maintain and develop a payment network to allow individuals and small business owners to transfer money between themselves easily, quickly, and cheaply. The initial focus is on doing so in developing countries. 
Provide individuals with convenient methods to utilize their money in the digital space. 
And in turn, the company's aspirations in our view:
Bridge the gap between individuals in developed and developing countries, allowing the latter more access to markets previously inaccessible to them. 
Provide an alternative to larger traditional corporations who offer similar services out of a belief that Electroneum's services are more beneficial to the user, and in places where these services are not offered - pioneer them.
AnyTask, an alternative for freelancers
"Recently, after Electroneum's growth in developing countries, part of its strategy was shifted: In order to promote use of the cryptocurrency, the company decided to launch a peer-to-peer task marketplace called AnyTask," Cointelligence wrote in the report.
Yavin and his team verified at the time that there were nearly 3,000 tasks listed on AnyTask and that nearly twice that amount had been declined. As of 26 May 2020, AnyTask had 4,643 tasks listed. Nearly 392,000 people had registered to the website as either buyers or sellers.
Cointelligence says it does not see AnyTask as a competitor to the traditional leading freelance platforms such as Fiverr, Upwork and Freelancer, but rather an alternative to include more freelancers into the global economy.
Unprecedented move
"No other company that we've scrutinised has ever done it with the purpose of making the report public," said On Yavin. "This is an unprecedented level of transparency, in an industry that claims to value transparency but often remains secretive."
Electroneum CEO Richard Ells said:
"No other crypto startup has had the guts to take this unprecedented step of allowing an internal review with the purpose of publishing for everybody to see. We feel proud of our commitment to transparency and that our statistics have been fully verified by a trusted third party."
In a separate statement, Mr. Yavin said he had "the opportunity to visit the Electroneum offices and I was very impressed by what I saw: A real working company, with dozens of people hard at work. While there, I took the opportunity to verify the statistics they'd provided us, using third-party tools such as Google Analytics. With my own eyes, I saw the truth of their claim of almost 2.5 million Electroneum app installations."
In the report, Cointelligence says Electroneum's network is distributed and not necessarily decentralised.
"As much as I am in favour of decentralisation, it's fine to have a centralized company, as long as it's managed correctly. As things stand now, I feel confident with how Electroneum is being managed."
On this point, Mr. Ells emphasised:
"Electroneum's network has a 'decentralised layer' that guarantees the prevalence of the project in the unlikely scenario that, for instance, a meteor were to land on our headquarters and wipe us all out."
He went on to say:
"Our blockchain is an open source on GitHub, which in essence means that if we shut down for any given reason, all those running a node on our blockchain could instantly re-instate an older copy of our software and add some simple coding and begin running a Proof of Work system via ASICS or ASIC resistant."
The self-imposed technical review is just one more world first for Electroneum and is further evidence that it is one of the most transparent and trustworthy cryptocurrency startups in the industry.