Changelly opens the world for Electroneum users
Changelly is one of the most popular non-custodial crypto exchanges. Electroneum is an award-winning crypto startup based in the UK with 4 million registered users worldwide.
7 September 2020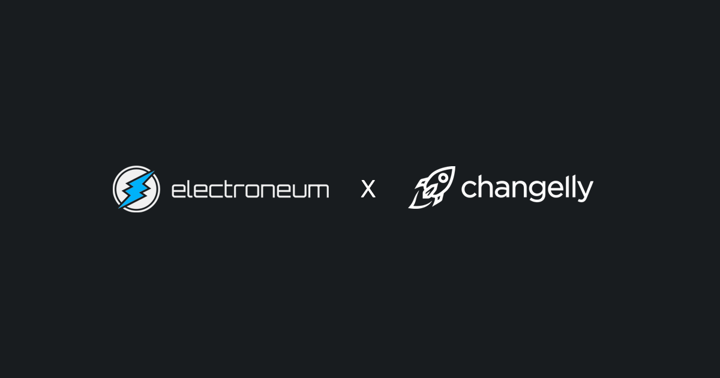 Electroneum is thrilled to announce the listing of its token on Changelly, which provides millions of crypto enthusiasts with global access to more than 160 cryptocurrencies for seamless swapping and 48 fiat currencies with which people can purchase ETN.
With millions of users, Changelly is one of the most popular non-custodial instant crypto exchanges, mainly because it enables crypto users to swap cryptocurrencies without opening accounts at exchanges. Instant crypto exchanges have also become significantly appealing for not holding users' funds and arranging a functional yet instant platform for cryptocurrency trading.
"We are happy Electroneum has joined the Changelly family, offering our users the instrument to get ETN in the easiest and the fastest way! "said Electroneum Head of Corporate Chris Norris. "Changelly offers a truly seamless experience when it comes to instant crypto-to-crypto exchanges." 
Mr. Norris explained that an instant crypto exchange is different from custodial trading exchanges such as Binance, Kucoin, and Huobi.
"Millions of Electroneum users will benefit from Changelly because it aggregates prices and liquidity from multiple custodial trading exchanges and usually has an ​ improved user experience," he said. 
"People anywhere can now get ETN to purchase tasks on our freelance platform once that function is enabled in the coming weeks," he added. "They can also get some ETN to send to anybody else with an ETN wallet address at a fraction of a US cent. Or they can purchase airtime or electricity for themselves via the Electroneum app or for anybody else with the Electroneum app no matter where they are."
Changelly is also a fiat-to-crypto marketplace that merges the best crypto offers from reputable fiat providers, making it possible to compare current rates and limits while buying cryptocurrency. At the moment, Changelly's marketplace aggregates offerings from Simplex, MoonPay, Indacoin, Coinify, and Wyrex, and plans to connect dozens of other providers.
"Changelly's mission has always been to provide customers with the easiest and fastest way to buy and swap crypto," says Changelly CEO Eric Benz. "With the more fiat options becoming available, we felt it best for our customers to have a tool, which provides all the best rates from different fiat partners we work with."
With ease and efficiency in mind, Changelly lets users buy crypto in just three steps: Select an offer, enter your wallet address, and then confirm the transaction by verifying your identity and entering the payment information. If your chosen provider does not accept the payment, you would be redirected to the next best offer.
About Changelly
Changelly provides an ecosystem of products and services that enables customers to have a one-stop-shop experience when engaging with crypto. Since 2015, Changelly has been acting as an intermediary between crypto exchanges and users. Users can swap cryptocurrencies effortlessly within ten minutes on desktop or their mobile app. 
The company's mission is to make the exchange process effortless for everyone who wants to invest in cryptocurrency. Attracting over a million visitors monthly, Changelly provides its loyal community with high limits, fast transactions, and 24/7 live support.
For those who'd love to make crypto exchanges on-the-go, the platform offers its official mobile app, which now provides fixed-rate exchanges. For those who would like to exchange crypto at a floating rate, Changelly offers the lowest fee of 0.25% for all crypto-to-crypto exchanges.