Use your ETN to buy products from Amazon, Walmart, and eBay via Shopping.io
Electroneum is excited to announce that Shopping.io will be accepting ETN as of 31 March 2021 at 8PM EST, providing 4.2 million ETN users the ability to purchase products from Amazon, Walmart and eBay, from anywhere in the world.
29 March 2021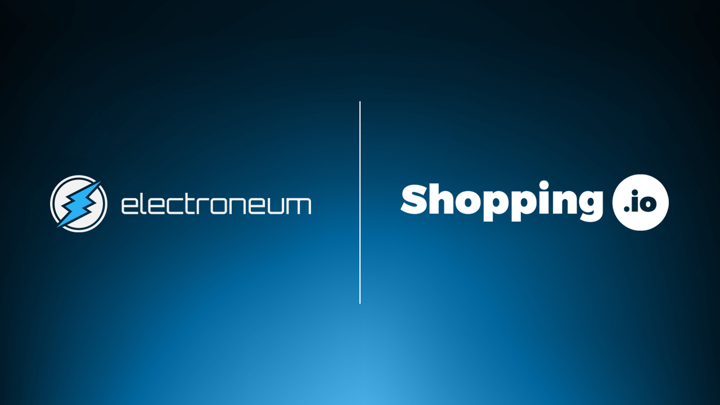 Jonathan Marriott, Electroneum's Marketing Manager, said he's incredibly excited to welcome Shopping.io into the ETN ecosystem. He said "Whilst ETNEverywhere.com houses more than 2,000 merchants accepting ETN, today's announcement has to be one of the most exciting to-date. Amazon, Walmart, and eBay are three of the largest eCommerce platforms in the world and now ETN can be used to purchase products from these three platforms".
Prior to today's announcement, Electroneum users and AnyTask freelancers could use their ETN to top up their mobile airtime and data, pay for electricity in some African regions, fund their next flight and hotel stay, and pay for goods across hundreds of stores. Now, products from Amazon, Walmart, and eBay can be added to that list, providing Electroneum another step further to accomplishing its vision as one of the most widely accessible and usable cryptocurrencies in existence.
When speaking with the Founder and CEO of American-based organisation Shopping.io, Arbel Arif shared that he was incredibly proud to be working with Electroneum, who over the last three years has made cryptocurrency accessible to millions of people around the world. Whilst products purchased through Shopping.io are shipped from the United States, there is a cost to shipping that users will need to cover at the time of purchase. However, Mr. Arif explained that they will be expanding to more locations around the world in the coming months, reducing the cost of shipping for millions of users worldwide.
Purchasing products via Shopping.io from Amazon, Walmart, and eBay is incredibly simple. Simply visit Shopping.io via this link, and use the search tool to find the product you wish to buy. Add the product to cart, select CoinPayments as the payment method, and choose ETN. That's it! From there, simply follow the on-screen instructions to complete your purchase.
Head over to Shopping.io and pay with ETN today!
About Shopping.io
Established in December 2020, Shopping.io was founded by dropshipping veterans with a vision to change how we make purchases with crypto. Its technology eliminates the need to create multiple accounts and provide personal data to several sites when you shop online.
Smart, AI-powered search and comparison tools enable people to find the best deals across Amazon, eBay and Walmart. All payments are secured through smart contracts, while the platform and user data are secured on a blockchain. All user data is encrypted and stored on a decentralized blockchain network. Moreover, the website uses security protocols SSL and complies with the Payment Card Industry Data Security Standard, among other measures. The funds are released by the smart contracts only upon delivery.
Purchased items will reach the designated addresses in the United States within two or three days. Shipping outside of the United States varies in duration, from nine to seventeen days. The return policy follows a standard 30-day limit, which starts from the day of receipt.