Ark lists Electroneum and AnyTask.com on their new website, MarketSquare
Electroneum is pleased to announce that Ark, a project that focuses on interoperability and adoption, has decided to list the UK-based crypto startup and AnyTask.com on its new venture, MarketSquare.
11 March 2021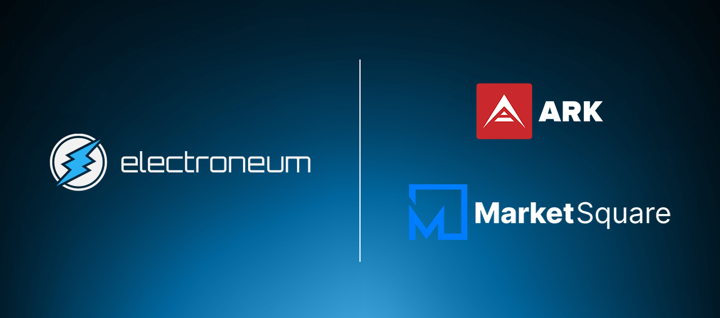 Ark explained that MarketSquare is currently in Beta testing and is scheduled for launch this month. 
Jonathan Marriott, Electroneum's Marketing Manager, said that the award-winning crypto startup and AnyTask.com would benefit hugely from this collaboration because MarketSquare is a website aimed at bringing together crypto and blockchain projects in one space where they can explore if there any potential synergies, compatibilities, and partnerships. ​ 
"MarketSquare is the ideal place for Electroneum and AnyTask.com to showcase themselves to the rest of the blockchain and crypto industry," said Mr. Marriott. "It will be much easier for other projects to find out that Electroneum is a payment solution that's already enabling businesses to send and receive transfers of value globally, no matter how small the transaction is," he said. ​ 
Mr. Marriott added that the Electroneum and AnyTask.com listing on MarketSquare can potentially unlock future collaborations with Ark. 
"In the case of AnyTask, the industry can easily find out that it is a freelance platform where thousands of freelancers are earning ETN by selling digital services to buyers worldwide, starting from as little as $1," Jonathan said. "Other leading freelance marketplaces cannot do this without charging sellers fees in the region of 20% and requiring sellers to have a bank account. 
"AnyTask.com charges zero fees to sellers and doesn't require them to have a bank account – all they need is the Electroneum app. This has only been made possible thanks to Electroneum's blockchain solution, and MarketSquare is the ideal place to showcase this," he concluded. 
The value of MarketSquare 
Ark's website explains that when they were in the process of creating MarketSquare, "we strived to make it easy for anyone to discover blockchain projects and applications in a streamlined way." They also explain "anyone from blockchain enthusiasts, to developers, to a project founder can find value in using MarketSquare." 
The reason why they will find MarketSquare valuable is that it provides users with "the ability to easily discover businesses, blockchains, applications, and delegates in the blockchain industry." 
Ark adds that blockchain entrepreneurs and developers are introducing us to new applications and projects being introduced daily, making it very difficult to discern what is actually useful, so what MarketSquare does is make it easy to discover businesses, blockchains, applications, and delegates. 
"By searching through different categories using our robust search function and following your favorite projects, it has never been easier to learn about, interact with, and follow projects within the blockchain industry," states Ark about MarketSquare. 
Ark explains the Electroneum-AnyTask listing 
Like Electroneum, Ark is a long-standing cryptocurrency project, having launched back in 2016. MarketSquare is simply the first collaborative effort between our two projects. 
"As we approach the launch of MarketSquare, we want to give our community an inside look at some of the partnerships we have formed," says Ark in 

an announcement

. "These strategic partnerships will not only help make MarketSquare, the new homepage for the decentralized web but will also create inroads between ARK and other projects looking to build and collaborate. Today we would like to introduce you to Electroneum!" 
"We have a large group of partners, projects, and applications joining us on MarketSquare," 

said Ark

. "By adding Electroneum to MarketSquare, we are furthering our commitment to work with all blockchain industry projects. Electroneum has a passionate and diverse community, and we cannot wait to host them on our platform." 
Ark added that things you can expect from the collaboration are: 
Videos on Electroneum 
Collaboration among the ARK and Electroneum team as we continue to foster our relationship and explore ways to work together. 
While you wait for the MarketSquare Beta, be sure to sign up at MarketSquare.io and subscribe to their YouTube channel for an upcoming video about Electroneum. The Beta is expected to launch before the end of March. 
Stay tuned to our blog and updates for all major announcements concerning MarketSquare and our partners. 
Make sure to join MarketSquare by becoming a part of our growing community on Discord, YouTube, and Twitter. 
What is Electroneum 
Attracting more than four million users since its launch in 2017, the Electroneum app and ETN cryptocurrency provides one of the easiest and fastest ways to pay and get paid. QR codes, address book functionality, and an instant payment notification system ensure fast and reliable payments for everyday use, whilst in-app purchases with ETN provide an easy way to top up essential services like home electricity and mobile phone airtime and data. 
Electroneum and ETN are setting out to not only become the perfect companion for daily transactions but a revolutionary way in which people can earn a living. One such example is AnyTask – a global freelance marketplace that pays sellers in ETN to reduce costs and speed up payments drastically. In a stark difference to other leading freelance marketplaces, AnyTask charges zero seller fees, and there's no need for sellers to have a bank account. 
If you're interested to learn more about Electroneum and AnyTask, please visit Electroneum.com and AnyTask.com. If you're interested to see some of the thousands of locations where ETN can be spent worldwide, visit the official merchant directory at ETN Everywhere.com. 
---