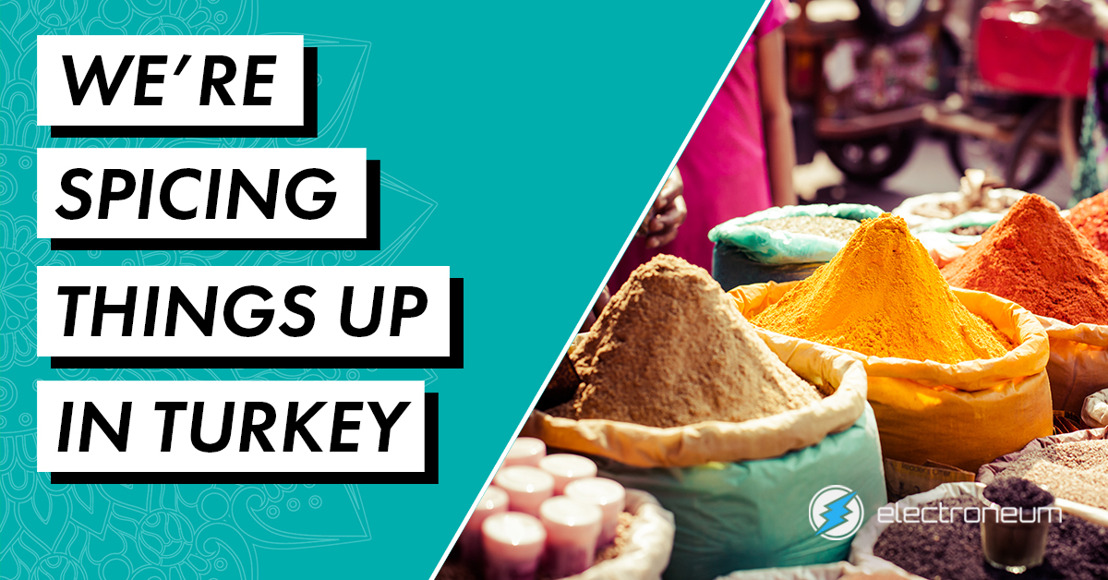 All mobile users in Turkey can now top up mobile airtime and data with Electroneum
More than 41,000 of Electroneum users in Turkey can now instantly top up Turkcell, Vodafone and Turk Telekom via third party airtime and data provider. The three mobile network operators cover 100% of the country and have a combined subscriber-base of circa 80 million. This means all mobile users could potentially use ETN to top-up .
After continuing to demonstrate there is great global interest for mobile phone top-ups with crypto, Electroneum has enabled tens of thousands of ETN users in Turkey to instantly and easily top-up Turkcell, Vodafone and Turk Telekom airtime and data via the Electroneum mobile app through a third-party provider.
However, in a country that ranks first worldwide in terms of crypto usage, millions of people can also already download the Electroneum mobile app and use the up-to-US$3 in free ETN rewards for mobile phone top-ups.
As in Brazil, Electroneum has partnered with a third-party mobile top-up provider who purchases airtime and data in bulk from the three mobile network operators (MNOs) in the country and resells it to the public. Combined, Turkcell, Vodafone and Turkey Telekom have over 80 million mobile phone subscribers in a country with a population of slightly more than 83 million. Turkcell services 34 million mobile subscriptions; Turk Telecom and Vodafone, 25 million each.
"This is the first time ETN users can top up their mobile phones with airtime and data with all the mobile network operators that operate in a country, covering 100% of the population," Electroneum CEO Richard Ells said. "This is an important step for Electroneum, particularly because we have some 41,000 users in Turkey and growing."
Electroneum began offering their users mobile top-ups in South Africa in February, but unlike Turkey and Brazil, the partnership is with MNO The Unlimited.
The experience in South Africa has been an enormous success and has served as the foundation for expansion to other developing countries, which is Electroneum's priority. They target the unbanked and those in urgent need of financial inclusion to help break the cycle of poverty. It is not a coincidence that most of the 1.7 billion people that according to the World Bank are unbanked also live in poverty.
In August 2019, Electroneum launched third-party mobile top-ups in Brazil to allow thousands of ETN users to top up Claro airtime and data. That led to further agreements with a third-party mobile top-up provider to enable Electroneum users also to purchase Vivo, Oi and TIM airtime and data.
Globally, thousands of people are signing up to Electroneum daily as they find out how easy it is to use the mobile app that rewards them with up to US$3 a month in ETN. Electroneum currently has circa 3.2 million registered users.
Why Turkey?
Turkey has in, recent years, focused on launching government programs that are in line with the Electroneum vision targeting the most vulnerable and disadvantaged groups in the country. The Turkish government has also recently revealed an economic roadmap that includes several items related to blockchain, including a bid to create a central bank cryptocurrency by 2023 and thus become a cashless society.
The country is home to a younger, tech-savvy population that is more open to adopting modern payments solutions, including cryptocurrency. Almost 27% of the population is aged 0 to 14 years, while 67% are 15 to 64. Only about 6% are over 64 years of age. The median age is 30.9.
According to a report on Bitcoin.com, Turkey is number one when it comes to cryptocurrency ownership with 20% of the population. This has a lot to do with high inflation and depreciation of the national fiat currency, the lira. Another report claims that over 31% of the country's adults are unbanked, which means a third of the population is more likely to use cash.
And although the country's government has succeeded in halving poverty and reducing extreme poverty, it still faces significant challenges as 31 percent of adults are unbanked. There are also 3.6 million Syrian refugees are in the process of being inserted into the economy.
Therefore, the country represents a huge opportunity for Electroneum as there is an urgent need for financial inclusion of tens of millions of people still living in vulnerable conditions and requiring access to the global digital economy.
Why Vodafone, Turkcell, and Turkey Telekom?
Currently, just over half of the mobile phones in use in Turkey are smartphones. This means there is massive room for growth in this area as there are a total of just over 80 million mobile phone subscribers with the three MNOs . Of these, only some 42 million are smartphones, and the rest are conventional mobile devices. The penetration rate of smartphones is expected to reach 71% for the first time by 2022, according to a report.
By partnering with a third-party mobile phone airtime and data provider in Turkey, Electroneum stands to expand their user-base exponentially by offering top-ups on Vodafone, Turkcell and Turkey Telekom.
The next step to mass adoption
Electroneum is one of the only cryptocurrencies being used worldwide to top up mobile phones. By expanding from South Africa to Brazil and now Turkey, Electroneum has proven there is a need for this service on a global scale.
Electroneum is the only crypto in the world that rewards their mobile app users with cryptocurrency that can be used for mobile airtime and data, demonstrating that adding value to the end-user is a genuine way to help millions of people in developing regions to live better.
Electroneum has also proven there is a real utility for ETN and their next step in their push for ETN mass adoption is to continue to seek partnerships with corporations, retailers, organisations, and governments.